| engine tilting platform | transmission tilting platform |
Transmission Test Fixture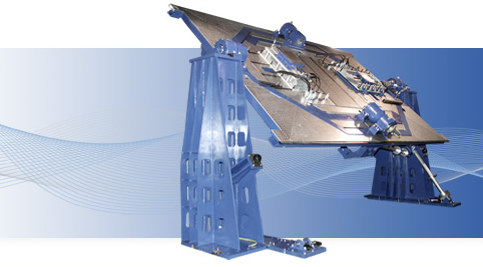 The Transmission Test Rig is designed to tilt a transmission in X and Y direction.

This highly dynamic tilting test rig with two axis is used to test the lubrication behavior on automobile gears under driving conditions. Highly dynamic tilting test rigs are employed to test lubrication and foaming behavior on automobile gears under real-life conditions.

The gears to be tested are mounted between a drive unit and a load unit. The tilting platforms are optimized in weight and stiffness to meet the requirements on high acceleration and moving mass. Moreover, they simultaneously reduce the stress on the drive cylinder to a minimum.

The platform of the tilting test rig featured above is 7 m long and 4 m wide. The tilting angles of each axis have a range of +/- 53°, the tilting speed is 30° per second..