3-dimensional Positioning System for Head Impact Pendulum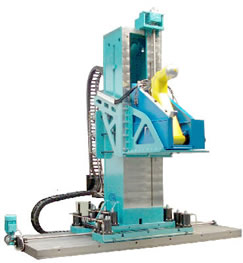 Our 3-dimensional positioning system serves to accommodate and position a head impact pendulum in longitudinal, lateral and vertical directions. It can also be employed for positioning a torso launcher.

The heart of the 3D positioning system is a column adjustable in X and Y-directions, attached to which is an angle console adjustable in Z-direction for mounting the respective impact test system. The movements in longitudinal, lateral and vertical directions are accomplished by means of geared motors and spindles. Automatic clamping elements simplify secure clamping of all moving components.
A PC control and a manual operating panel are available to operate the positioning system. The PC control allows automatic, semi-automatic and manual positioning.