Axle Support Fixtures EAB for Axle Test Rigs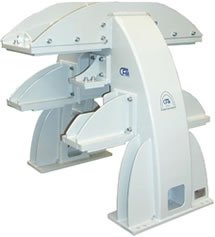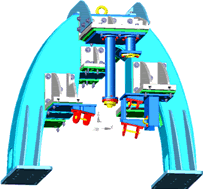 The EAB consists of a basic body and modular interchangeable adapter plates belonging to a specific axle.
For individual development, customers provide us with the axle data where axle components form an interface to their periphery (i.e. spring strut, shock absorber, auxiliary frame, engine mounting, control arm......). Based on this information we manufacture adapters connecting the EAB basic body with the axle components.
When the test rig is converted to a new axle, the new adapter plates are merely mounted to the consoles and the axle can be installed directly. The kinetic points of the axle are clearly defined in their position relative to the EAB so that the KO position can be accurately approached and adjusted. This makes the setting of the test rig after an axle change comfortable and quick.
This procedure ensures short setting times during axle change, design changes of axle components or breakage of an axle component and ensures optimum test stand utilisation.
The standard axle fixture can also be used for inspecting individual components of an axle (i.e. double wishbone, spring strut etc.) in the axle environment. The adaptation of peripheral axle components (transmission, drive shafts, oil pan, steering gear....) can also be realised. As an option the system can be equipped with mountings for engines for introducing steering or drive moments.

( back to page 1 )