3-Point Level Control Units
Our level controls are employed for the automatic vertical and position control of clamping plates, foundations and other seismic masses. These turn the air spring suspension into a functioning system.
We supply a mechanical level control of type MC 300 and electrical level controls of types LC 300 and LC 302.
The controls mainly consist of the appropriate control unit, three level control cabinets with level control valve and control rod as well as applicable hoses and fittings and additional installation material.
The level control unit distributes the incoming compressed air to the three spring assemblies to be controlled. Pressure gauges show the inlet pressure and the three system pressure values. The airflow is controlled by an adjustable choke and monitored by way of a pressure switch. A water separator and a filter element clean the supply air.The position of the seismic mass is monitored and automatically controlled with the help of the control rods and level control valves of the three level control cabinets. Possible reduction and repositioning of the mass mounted on the foundation is offset in this way.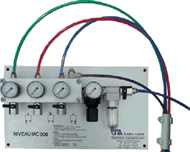 MC 300:
Three ball valves allow the manual ventilation and evacuation and related lifting and lowering of the seismic mass.
(goto MC 300)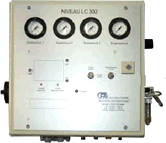 LC 300:
Correct positioning of the seismic mass is displayed on the level control unit LC 300 by means of different colour LED's. The vibration foundation is raised or lowered with the help of a key switch. As soon as the horizontal position of the foundation has been attained, the control closes the control valve and the control process is completed.
LC 302:
The electrical level control unit LC 302 mainly has the same functions as the LC 300. However it additionally allows the adaptation of the seismic mass to the respective test frequency. To this end it is equipped with another key switch for changing over the natural frequency of the air spring suspension.
(goto LC 300/302)
Level control valve NRV - 0.1
The level control valve NRV -0.1 is a mechanical working relief valve.
(goto >> NRV - 0.1)
Control Unit DC 300
Our pressure control DC 300 serves to regulate the pressure of air springs which carry a clamping plate or a concrete foundation. It is recommended in case the level of the seismic mass is only of smaller importance. This control can only be applied for air springs of our BZ-line though.
(goto >> DC 300)