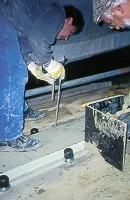 Grouting Services
ITBONA Inc. recommends Pagel, worldwide leading manufacturer of non-shrinking grouts. For more than 25 years PAGEL SPEZIAL-BETON GmbH & Co. KG in Essen has influenced and played a major role in the development of grouts and special mortars. The PAGEL-GROUTING-SYSTEM has become a worldwide recognized system for grouting and our products like V1, V12 and V13 are synonymous with the word "non-shrinking-grout".
A wide range of products together with an undeviating quality backed by a comprehensive customer service has earned PAGEL its outstanding reputation for being able to provide a product and solution for factory and industrial machine foundations.
Many years of this reputation and excellent quality has resulted in PAGEL being certified with the EN ISO 9001.
For more information on PAGEL products in the US please visit PAGEL-USA at www.pagel-usa.com