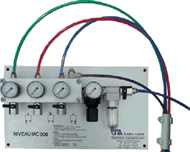 Mechanic Level Control unit Type MC 300
The MC300 is used for the automatic level control of airspring-vibration-isolated floor plates, concrete blocks and other seismic masses. The level control keeps the suspended mass always at the same level independent from the actual load. This effects a constant vertical eigenfrequency of the suspended mass, due to the variable spring rate, automatically adapted to the actual total load on the springs.
The MC 30 is drained. A pressure regulator and an adjustable orifice allows to adapt the supply air to the actual requirements. The air is distributed to the level control valves. The actual pressure in the air spring systems and the supply is displayed by four manometers.
Three contained level control valves must be bolted at defined locations to the seismic mass. These valves decrease or increase the inner pressure of the airsprings depending on the actual weight of the suspended mass. The level control unit MC 300 is manufactured in our works and contains only tested high-quality components, in order to guarantee a long durability with a minimum of maintenance.